Don't miss my new Hartford Parallax: City Abstracts collection displayed at the Gallery at Stackpole Moore Tryon* at 242 Trumbull Street in Hartford from October 7-November 30.
Artist Reception Thursday October 20 from 5-7pm.
There are 38 prints displayed at various sizes: 8 36×54 prints in the display windows; and in the gallery are: 6 vertical 24×36, 9 square 14×14, 9 vertical 14×21, and 6 horizontal 14×21.
*Stackpole Moore Tryon has been voted Best Men's and Women's clothing store in Connecticut for the past three years by Connecticut Magazine. Be sure to see their new Fall collections.
Conversation with Jack McConnell:
The Hartford Parallax:City Abstracts Collection represents a huge departure from the way I've worked throughout my commercial career.
For 45 years I traveled through the United States and Europe shooting annual reports and advertising campaigns for Fortune 500 clients. Along the way, I always took personal time to do
street photography, catching moments in the lives of city dwellers and passersby–a walk through Lisbon, Venice, London—wherever I was sent to work.
Now, I'm busy re-interpreting a city only five minutes from my home. A city so familiar to me I wonder if I can possibly see it with fresh eyes.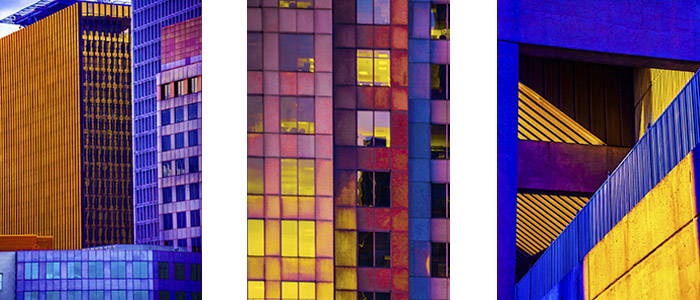 So I prowl the downtown streets and neighborhoods armed only with an extreme telephoto 400-550mm lens, an extreme wide angle 8-15mm lens, and a multi-colored polarizing filter.
I challenge myself to find details and compressed layers of line, form and color that convey the legacy of 300 years of architecture within the bounds of one of the oldest cities in America. Sometimes I'm standing one-quarter mile from my subject, other times my nose is pressed to window glass.
A couple of days each week, I go looking, looking, looking—seeing Hartford anew. I use a multi-color polarizing filter to emphasize the differences in warm and cool light. I go at 6 am and 8 pm to capture the best possible light. I go on rainy days and sunny days to find reflections of buildings in other buildings. I look for signage, statues, friezes, graffiti, all the details that make Hartford distinct from other cities. I'm amazed by what I can find in these compressed spaces. I like the simplicity of the images. In many of the photos, even though there's barely anything to give away the identity of the buildings, there's just enough, and most viewers seem to know that it's City Place, or the Goodwin, or the back of the XL Center.
The color comes from the shadows and light of early dawn or dusk, and the reflections of one building in another, or the clouds and sky, or by tilting the angle of my camera, or by rotating the polarizing filter on my lens. When I process the files I can push or pull the overall color tones to make the color stronger or softer; but I'm not changing any one portion of the image as you might expect. It's trusting the serendipity and enjoying the moment of tripping the shutter and processing the file.
I want these energetic photos to help Hartford re-introduce itself to visitors from away, and to neighbors from the suburbs. I'd like to plaster the photos on billboards along I-91 and I-84, wire them to chain link fences surrounding construction sites, project them onto buildings and play a sequence to music every night at 9pm. Or have them accompany a music or dance performance, or have them magically appear as action-triggered images on iPhones as folks walk by a Welcome to the new Hartford sign.
Not the same-old, same-old, beige and gray Hartford, but a warm, exciting place to live, work and play. It would be my dream if these photos could help create the buy-in that's needed to create a new reality here in Hartford.
Now that I've taken the time to discover a new way to interpret my favorite city Hartford, I need to see it through, to continue finding new shots on my walks through the city streets. And to find unique ways to share this work with the community and groups that could benefit by using the photography to re-introduce Hartford to its neighbors and visitors.
From my years living in downtown Hartford and my more recent life in Wethersfield, only five minutes away, I've always been optimistic that Hartford would step up to the plate and come into its own. With all the good things on the horizon, from the new ballpark, the five downtown college campuses, the new energy as developers from New York and Boston take another look at Hartford's potential, the 17 new housing projects throughout downtown for students and young professionals, and retail improvements in neighborhoods like Parkville and DoNo,
this could be Hartford's moment.
If I can push through to find the right focal point that will create excitement about Hartford through new imagery, I'll feel I've accomplished a Parallax shift in the way folks interpret our Capitol city. In all the photos I've taken of Hartford through the years, I feel this recent work is my best work. A supporting grant at this point would give me the ability to continue to explore my vision and see what I can yet discover about this city I love.
My own experiment in "seeing" comes at a pivotal time. Because this new work focuses on Hartford, which is approaching a critical moment in its history, I feel an urgency to complete this collection of photography and bring it to the attention of folks who need to see it, and share it as widely as possible. I think the photography will delight and help define a more
upbeat view of Hartford.
While I make several photo forays to the city each week to continue the work of exploring at dawn and dusk, I am also taking steps to meet with marketers, event planners, artistic directors, corporate communicators, space planners—people working on Hartford
from many different angles.
I am contacting museums, galleries, building owners, developers and leasing agents for the 17 renovated buildings providing apartments to young professionals and students attending the five downtown college campuses; and property managers for the 15 office towers that are changing hands, providing new energy to the city as tenants move in and out of downtown office space.
Hopefully some of the thousands of workers who drive in and out of Hartford every day, will think about bringing their families into the city to participate in the many activities that go on here daily in theatres, parks, museums, restaurants, clubs, and neighborhoods.
I'd like to think that the new City Abstracts can be the catalyst for cross-promoting among all these organizations as Hartford works to become its best self, and finally grabs the brass ring.
If not now, when?