After photographing Hartford for 45 years for corporate and tourism clients, last summer I challenged myself to create a fresh perspective on one of America's oldest cities. I use an extreme telephoto 400-550mm lens, an extreme wide 8-15mm lens, and a multi-colored polarizing filter. A couple of times a week, I wander downtown streets and neighborhoods, looking, looking, looking. By drastically changing my point of view, I create a Parallax effect and an energetic profile of Hartford. This is an exciting time for Hartford, and I hope my parallax view of the city will help skeptics set aside the same-old, same-old, beige and gray ideas, and embrace a new Hartford identity.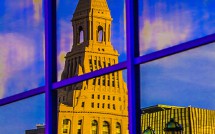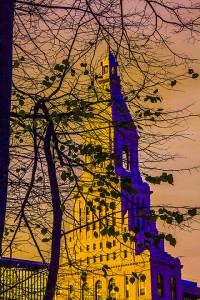 I feel an urgency to share the new photographs with folks who need to see them – city planners, dwellers, neighbors, and visitors who come to work and play in the Capital City. After all, this comes at a pivotal moment when four nearby colleges are moving campuses downtown, when 17 office buildings are being renovated to include apartments and lofts, and many office complexes are being refurbished and modernized by developers.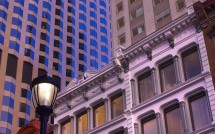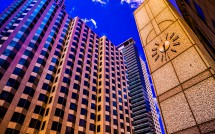 It's time to celebrate a NEW Hartford, the one we've all been waiting for. A state-of-the-art DoNo baseball stadium, modern restaurants, clubs, music, theatre and movie venues are enlivening Downtown and the convention center corridor near the Science Center and Riverfront Recapture. I hope my reinterpretation of Hartford will ignite viewers and help define a more upbeat view of the city.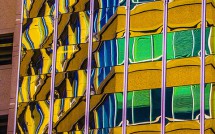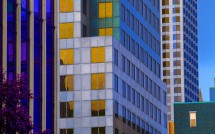 Ninety-five percent of each image is created in the camera, with a little enhancement in the computer to create a dramatic sense of the Capital City at its best. I can then use the photos as elements in collage murals, banners, billboards, and outdoor art, alongside classic Hartford images to promote and market the city and businesses.
All photographs on my five websites are available for fine art display, or for advertising and website use. You can order photos through the Purchase Page on my website, or contact me at my Wethersfield studio at 860.563.6154 or e: jack_mcconnell@msn.com .