OUT-TAKES by photographer Jack McConnell
At Water's Edge — Is it a painting or photograph?
Special hand-painted photographs by Jack McConnell are featured at Art in the Abbey fundraiser March 10-12 at St. James Episcopal Church, 2584 Main Street in Glastonbury, CT.
Throughout my 50 years as a photographer, I've tried a variety of special techniques to challenge my vision and nourish my creativity. One of these is to print B&W photographs onto fine art photographic papers that have old-fashioned "tooth" that will facilitate a hand-painting process, where I use Marshall's transparent oils straight from the tube, applied with cotton swabs, sable brushes, or by using a vigorous hand-rubbing technique.
My hand-painting style resembles the tradition of turn-of-the-century photographer Wallace Nutting, but with more gusto and energy. Instead of pastel tints and watery washes, I mingle translucent and opaque techniques with a quirky color intuition and gritty textural manipulation done with sable-tipped brushes and hand-rolled cotton swabs. By using painterly finishes like stippling, smudging and layering of color, I try to straddle the line between paint and emulsion, playing with a print's tactile surface and asking the question, "Is it a painting, or is it a photograph."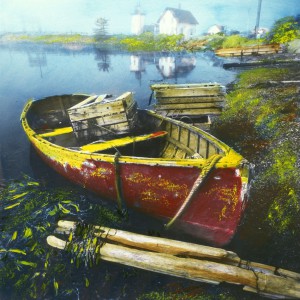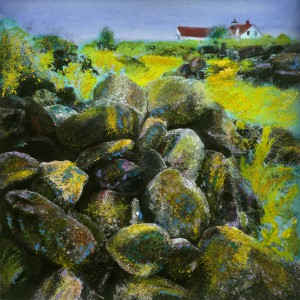 The tradition of hand-coloring on Black & White photography goes back to the mid-1800's and continued for more than 100 years, until color film was readily available. In the first half of the 20th century, photographers like Wallace Nutting organized cottage workshops of painters who applied color over his prints. Nutting prints became wildly collectible, moving from country flea market stalls and garage sales, to high-priced galleries and antiques shops.
For awhile Nutting worked from the Old Wethersfield historic buildings of the Webb-Deane-Stevens Museum on Main Street, only two blocks from my studio. He also produced furniture which is now in a collection at the Wadsworth Atheneum in Hartford.
The traditional hand-painted photographs tended to be largely pastel tints and watery washes of color over dreamy landscapes delicately interpreted—ladies swathed in airy gauze. Mordant flowers tumbling silently from a porcelain vase. A hint of gesture. A wisp of color.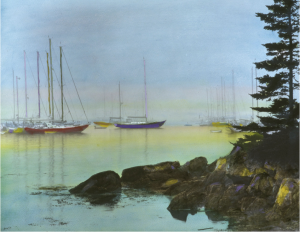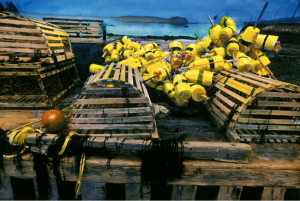 My choice was to shoot more gritty subject matter found everywhere from town dock to boat yard, from woodlot to the auto dump. In fact I have a whole series which I title Rust & Rubble, which can be seen on my website, JackMcConnell Photography.com. I also prefer to use color straight from the tube, rather than diluting it with a thinning medium. So what you see, for the most part, is a deeper intensity of color.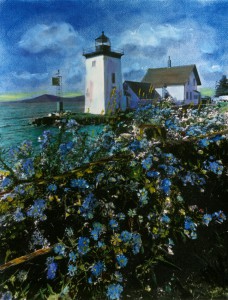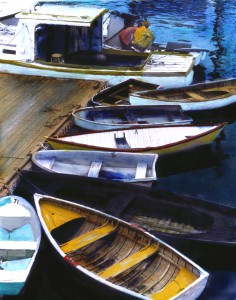 With certain prints, I take the process one step farther—by having the finished, hand-painted, photographic print reproduced onto Somerset Satin, an imported British fine art paper. These archival Iris Prints (also known as Giclee prints) are scanned and printed in my lab here in Wethersfield in limited editions of 25 prints.